I am very pleased to introduce a new premium add-on, which is used mostly in every website: WPForms – a form script. Yes, a WordPress plugin for creating complicated, responsive forms, yet easy to use.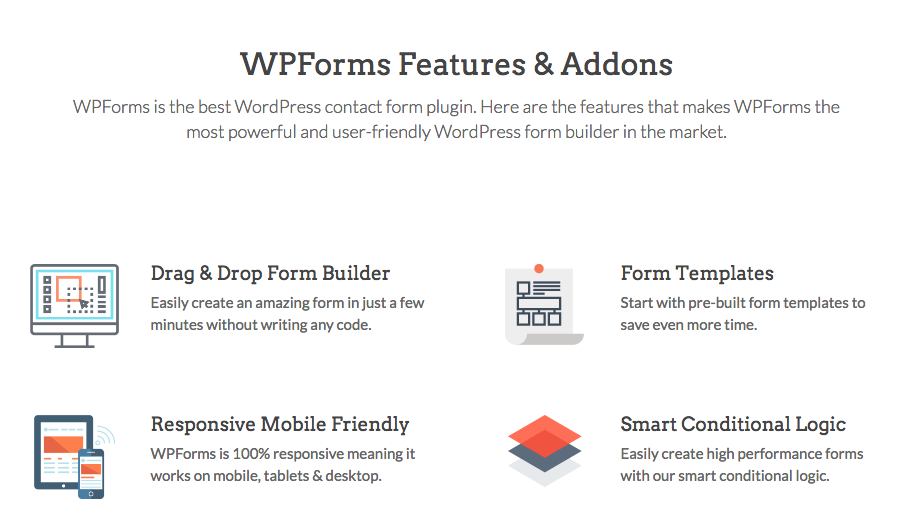 A form is not just a form!
With nowadays usage, any part of a website should be:
Responsive: mobile friendly.
Easy to use: saving time.
That's why WPForms comes to the picture. Syed Balkhi, the co-founder of WPForms, wrote an interesting post about it 🙂 I don't remember when I started coding forms with PHP, but it required knowledge of PHP, HTML, CSS and even database with complicated forms. Obviously, it is not end-user friendly. Now, with WPForms, anyone can create beautiful, fully functional forms, whoever you are: an entrepreneur, an office employee or an IT expert. Just drag-n-drop. No coding skill is required. Forms will be ready within minutes.
Why WPForms?
I used several form scripts with WordPress, such as Jetpack included form, Ninja forms or Contact Form 7. They are from basic to advanced forms, good free scripts. But then, users still need to have HTML, CSS skills for formatting, which not all of my customers are interested. The pre-format in WPForms is beautiful for most of the sites already.
In addition, it is actively developing with e-commerce, advanced features such as conditional forms or payment forms. Again, no coding skill is required, and all forms are responsive since they are made.
Furthermore, as an entrepreneur, I also want to support for other startups. They need resources for further development.
How much does it cost?
For my web subscription customers, it's free of charge 🙂  Syed suggested that each of customer should have their own license, so customers can contact them for supporting. I do agree with that idea in a general case, but with what I have done for my customers, it would be better that they contact me. And the fact that I am pro-actively updating site backend for all customers, so I decided to provide that support too, instead of asking my customers come to WPForms.
I am going to change all forms on the websites I am managing with the new forms. Some tutorials with WPForms will be coming, but for now, click here for the how-to from them. Pretty easy guides. For other customers, I would highly recommend changing to WPForms too. There is a free version, WPFroms lite, with limited functions. But Pro version is very affordable too, just $39 per year.
Enjoy the business life 🙂