What is G suite inbox zero?
Inbox Zero is a rigorous approach to email management aimed at keeping the inbox empty — or almost empty — at all times.
This article shows how to organize your inbox when using email in G suite. This technique can also apply to free Gmail accounts. However, as we are using G suite for business, I keep using the term G suite as below.
By default, G suite will put all emails into one inbox. If you are a person like me, receiving around 500 emails every day, you will spend the whole day only for processing your inbox. Luckily, G suite supports for labels, that can help us to organize our inbox much better, aiming to inbox zero.
What are labels in G suite?
If you think your inbox as a folder, labels can work like sub-folders. In G suite, you can create multiple labels, independent or parent-children relations. For example, I have created first labels for my startups: VietNAP and OsloNAP. These two labels are independent. Under each, I have created different labels for different purposes. For example, my employee names, my vendors. Here are the steps.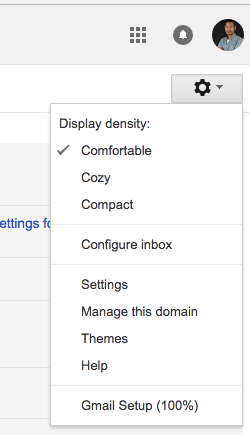 Login email at G suite, of course.
Click the configuration button near to the top right corner.
Click Settings, then Labels.
By default, G suite has created few labels there, including System labels and Categories. Scroll down, in the Labels section, you will have a button Create new label. Click that button.
Enter the name of your label. Any unique name that you can remember and related to what you are going to assign to emails.
If you just want to create a top-list independent label, don't choose Nest label under.
If you want to create a parent-child label, use Nest label under, and choose another label in the dropdown box.
Repeat above steps for creating a new one.
Applying filters to make G suite inbox zero
After creating labels, you can come back to the Settings screen, but this time, click Filters and Blocked Addresses – Create a new filter.
For basic usage, you have several options such as filtering by a sender, a receiver, words in the subject or email content… Click to Create filter with this search.
Choose Skip the Inbox (Archive it). This will keep the filtered messages away from your inbox.
Next to Apply the label, choose the label you want to assign to the emails.
If your filter is correct, and you have some email messages fit to the filter, you should see them now together. You might want to choose Also apply filter to

0

matching conversations. when creating a filter.
There are other options such as Mark as read, Forwarding, etc. It depends on how you are using.
For advanced usage, you can combine multiple information. G suite supports for different operators, that you can use for search in your inbox, and create filters with that. For example:
I want all emails from Norwegian Air, SAS, KLM, Airbnb labeled as Travel. I can create a filter like this:
[div class="reference"]from:(norwegian.no) OR from:(klm.com) OR from:(flysas.no) OR from:(airbnb.com)[end-div]
I want all reports from my accountant labeled as Billing. I can create a filter like this:
[div class="reference"]from:(my-accountant-email) AND subject:(Weekly billing report)[end-div]
It might take you one or two hours for creating filters, but it worths. You will be much more productive with a zero inbox.